Synthetic Textiles, Inc.
BRAIDED NYLON CORDS & LACINGS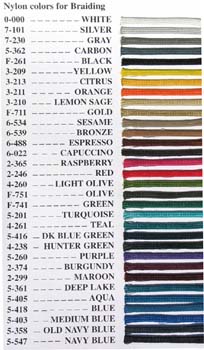 Synthetic Textiles, Inc. is a leading manufacturer of nylon braided solid cords, tubular sleeves, flat lacings, and specialty rope products. STI products are found in many applications such as outdoor recreation products and camping supplies. There are also numerous applications for STI cords, ropes and lacings, including zipper pulls, apparel drawstrings, eyeglass retainers, lanyards and tethers of all types on everything from portable electronics to sports equipment. Nylon ropes and lacings are compatible in color and finish with nylon fabrics used in top-selling sports apparel and outdoor recreation equipment.


With STI braiding and weaving capabilities and manufacturing flexibility, development of special cords, ropes and sleeving for specific applications is never a problem. Years of experience, combined with the latest braiding technology, enable STI to offer an unlimited variety of braided and woven products in assorted colors, patterns, sizes and forms. STI can create your custom product or duplicate almost any existing braided or woven product for you.

CLICK HERE TO GO BACK TO: MAIN PAGE
Synthetic Textiles, Inc.
1145 N. Grove Street
Anaheim, California 92806
Phone: (714)630-2134 Fax: (714)630-9386